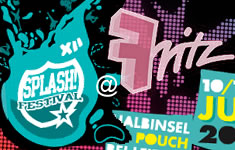 Diese Woche Mittwoch am 11.03.2009 gab es bei Radio Fritz im Rahmen von Soundgarden eine Spezial Sendung zum Splash! Festival mit Kenny D & mir. In unserer halbstündigen Show hatten wir den Cheforganisator des Festivals, Mirko Roßner zu Gast der uns zu allen Fragen rund um das Splash! Rede und Antwort stand. Wir sprechen über die neuesten Line-Up Zugänge, das einzigartige Festivalgelände und Veränderungen gegenüber dem letzten Jahr. Musikalisch bekommt Ihr einen kleinen Überblick wer dieses Jahr vom 10 – 12. Juli auf der Halbinsel Pouch auftreten wird. Zu hören gibt es: K.I.Z., Deichkind, Dizzee Rascal, The Streets, Olli Banjo & Jonesmann, Marteria & Terry Lynn. Die Tracklist & den Downloadlink gibt es hier:

http://www.zshare.net/audio/5693396527efb48d/


Die Tracklist:

01. Dizzee Rascal feat. Calvin Harris & Chrome "Dance Wiv Me"
02. Deichkind "Metro"
03. Terry Lynn "The System"
04. Marteria "Zum König geboren"
05. Olli Banjo & Jonesmann "Galaxie"
06. K.I.Z. "Klassenfahrt"
07. The Streets "Heaven For The Weather"
Vielen Dank an Andre Langenfeld & Pyranja.